Are you unhappy with the current look of your kitchen? Many homeowners must face the tough decision of buying a new set of cabinets or working with what they have. If your cabinets are in fair condition, painting them may be the smartest option. Replacing your kitchen cabinetry is only necessary when the cabinets are in bad shape or falling apart. In today's blog, we will be going over the benefits of painting your kitchen cabinets and why it may be the best path for you.
Budget Friendly
It's likely that your cabinets are in good condition, but the doors may need some work. Therefore, ripping out well-functioning cabinets to reinstall new ones is unnecessary. Furthermore, when you remove cabinets, you have to pay the added costs of new countertops, a plumber to install the new sink, etc. The only time a complete reinstall of the new cabinets is really necessary is when your cabinets are in a very poor state (warped, cracked) or if you're planning to completely redesign the layout of your kitchen. Touching up and painting your cabinets is a more budget-friendly option that will not break the bank while also giving you the beautiful results you want.
Quicker Completion
If you don't like the long wait time of completing a project, you'll be happy to hear that cabinet repainting is a pretty timely process! Unlike putting your entire kitchen through a major renovation, painting/refinishing your cabinets can take as little as 1-3 days if you work with the right team. On the other hand, the average kitchen remodel will take around 6 to 12 weeks—that means no homemade meals for weeks!
Environmentally Friendly
More and more households are looking to lower their carbon footprints, and one of the most efficient ways to do this is with the three Rs: reduce, reuse, and recycle. If your cabinets are in decent condition, you'll only be contributing to the accumulation of waste as you throw your cabinets and countertops away. Just think about how much trash (and trees) you're saving by simply making the most of what you already have. On top of that, if you choose to paint your kitchen cabinets with PaintGreen, you'll appreciate that we utilize paints that are eco-friendly and free of any kinds of harmful chemicals.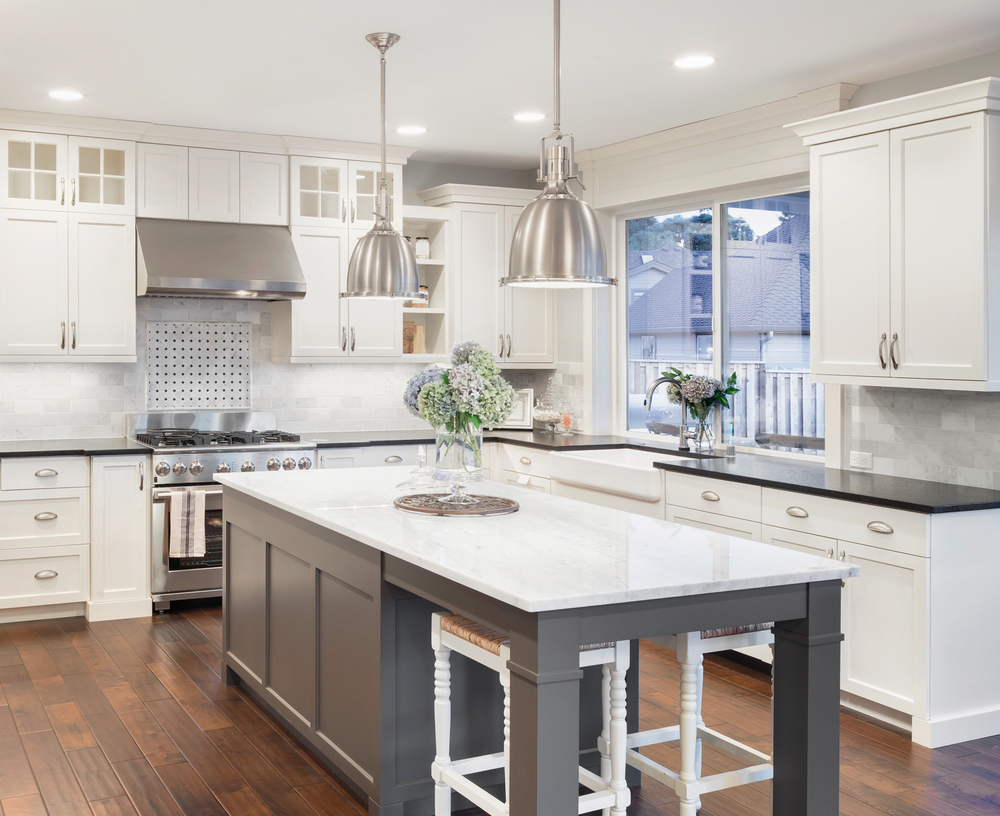 Unlimited Options
Perhaps one of the nicest benefits of painting/refinishing your kitchen cabinets is the number of options you have available. Many cabinet manufacturers have very limited options—unless you want the expensive option of getting it custom-made. Painting/refinishing gives you more options without having to empty your bank account. You can have them stained a darker/lighter shade or have them painted an entirely new color. You can get creative and go with major kitchen trends such as different colored kitchen islands or two-toned cabinets. You'll be surprised at how much it can transform the look, aesthetics, and feel of your kitchen!
Paint Your Kitchen Cabinets with PaintGreen
The kitchen is the heart of the home, and the cabinetry makes for the majority of the kitchen. If your cabinets are in fair condition and you're looking to bring new life to your kitchen, painting/refinishing your cabinets is the ultimate solution. Unlike full-scale kitchen remodels, this option is more budget-friendly, environmentally friendly, quick, and offers stunning results. If you're hoping to transform your kitchen by painting/refinishing your cabinets, give PaintGreen a call at (619) 446-6983 or click here for a FREE estimate!