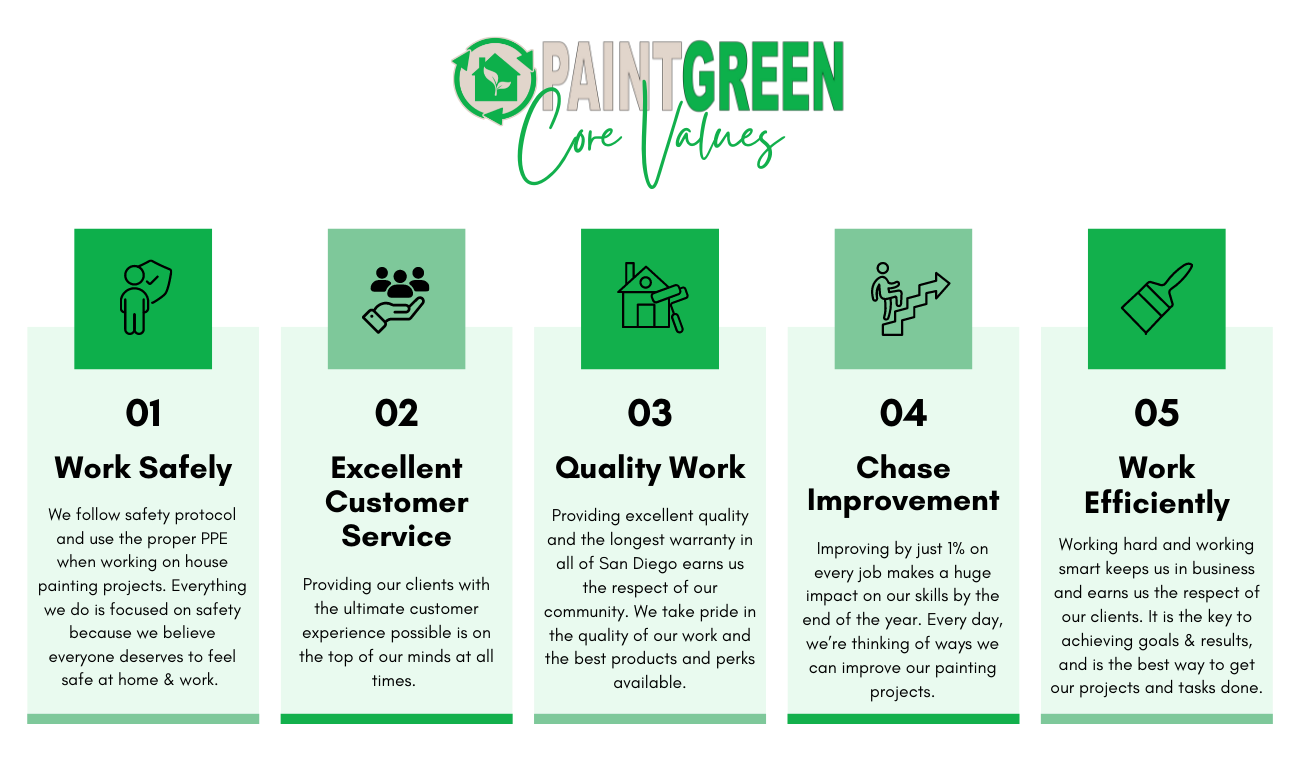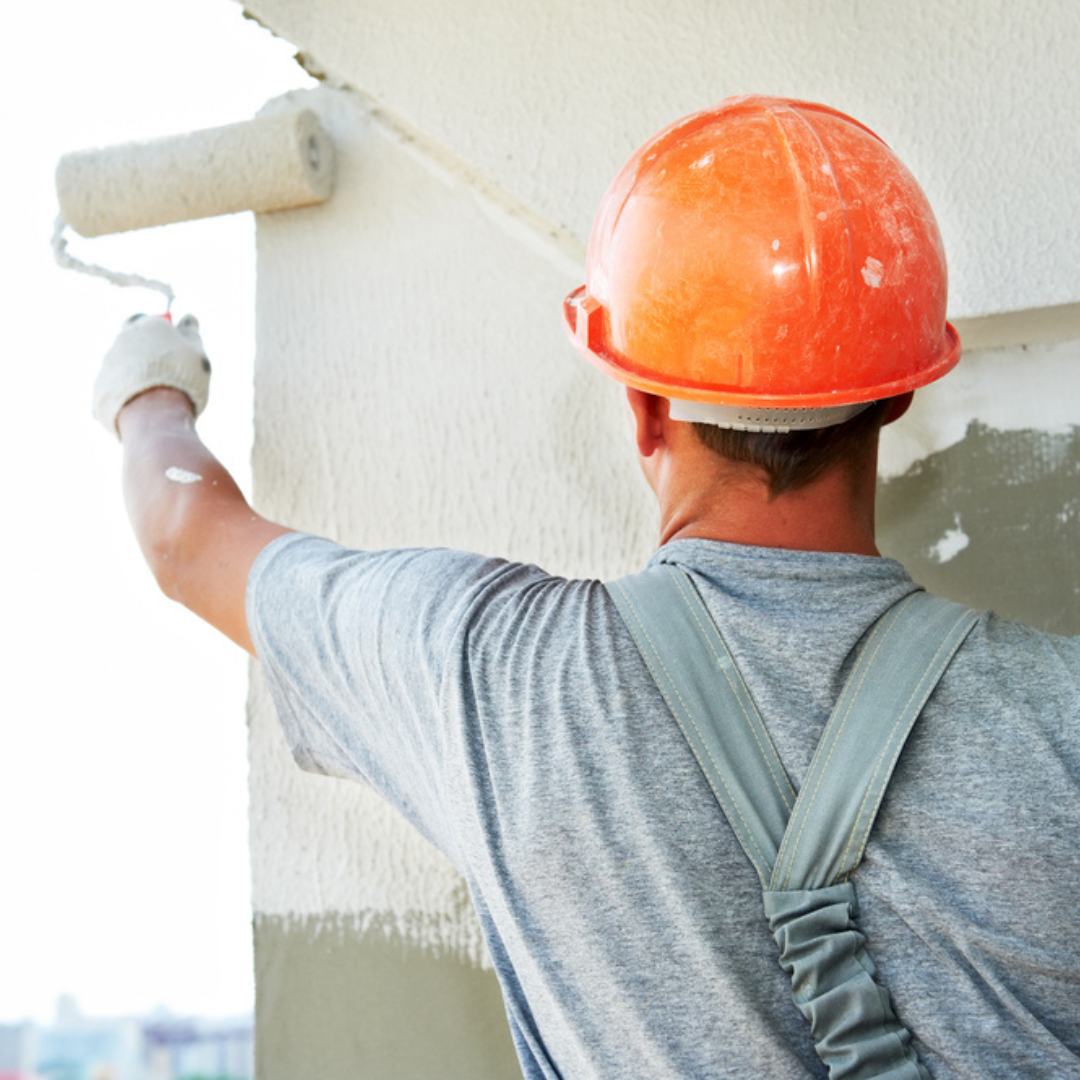 Work Safely
Work safety is really important to us. For both our team and clients, we want to ensure that everyone is safe at all times. The most important thing we do is go home safely to our families at the end of the day. That's why we follow safety protocol and use the proper PPE when working on house painting projects.
The health and safety of our clients and employees are important to us, which is why we use non-leaded pigments and the most eco-friendly products on the market. Everything we do at PaintGreen is focused on safety because we believe everyone deserves to feel safe at home and work. We value our employees and clients, which is why we want to ensure their safety and well-being.
You can be certain that anyone from PaintGreen who works on your home has been trained in their specific area—whether it's painting or prep work. We spend the time to make sure everyone on our team does great work for our customers. Our standards are high, and we don't compromise them, even when we get busy. Our team also uses professional equipment—and is trained in how to use it—to ensure that every paint job comes out amazing!
Excellent Customer Service
Excellent Customer Experience
Providing our clients with the ultimate customer experience possible is on the top of our minds at all times. We're always looking for ways to improve the painting process and ensure that our clients have the most pleasant experience possible. By providing quality customer service, we ensure that our clients are satisfied before, during, and after the painting process. Happy customers refer to their friends and family, which keeps us employed and able to feed our families. It's a win-win!
Effective Communication

Effective communication plays a key role in the efficiency of the project and the satisfaction of our clients. We want to ensure we make our clients' vision a reality, and communicating with our clients is vital for us to successfully make it happen. With every project we do, we want to get to know our customers individually and carefully consider their needs and goals when working on their projects.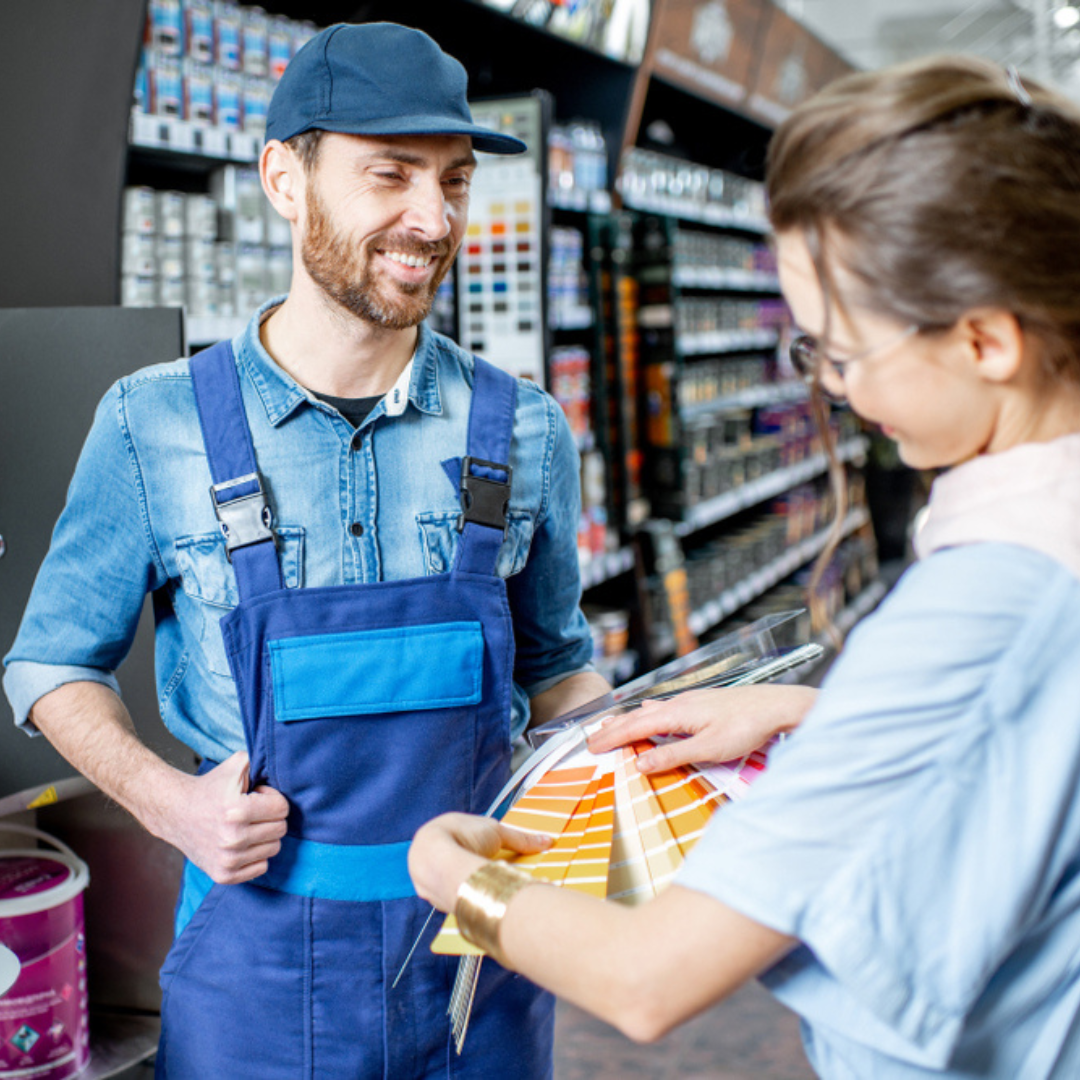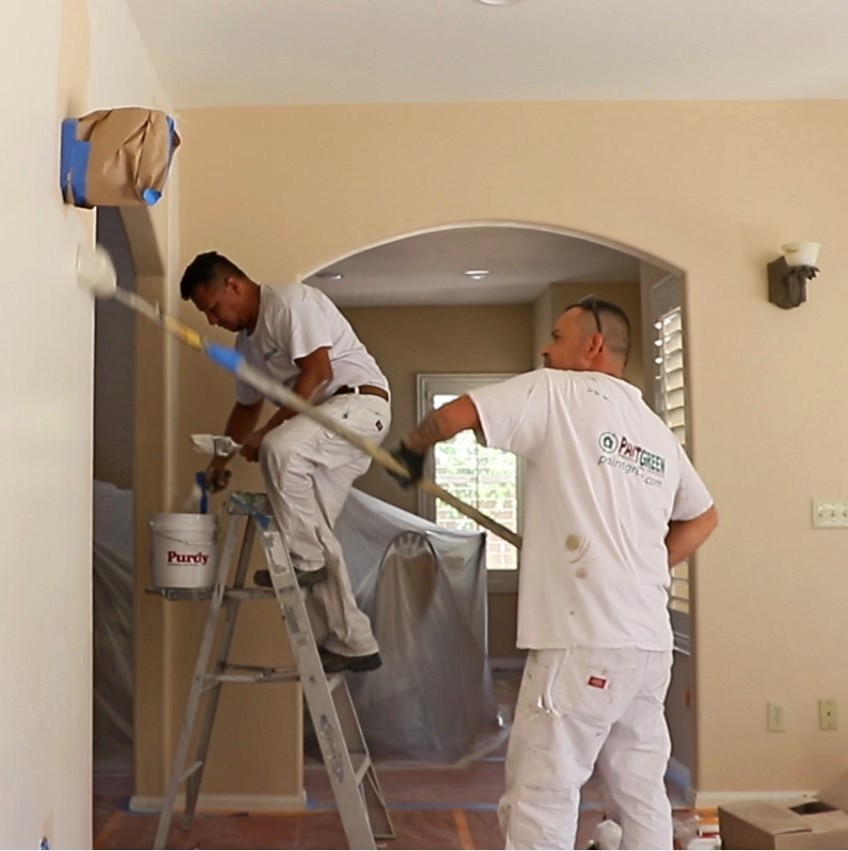 Quality Work
Show Pride in our Quality of Work
Providing excellent quality and the longest warranty in all of San Diego earns us the respect of our community. We take pride in the quality of our work and the best products and perks available. Known as the home of the 9-year warranty, our client knows that they are in the best hands when choosing us
We know that big home improvement projects like painting may seem daunting for many clients. However, with our excellent warranties and unrivaled commitment, our clients can have peace of mind that they're under the best care possible. In the very unlikely case of a painting issue, our clients will have a 9-year warranty to back them up. Here at PaintGreen, we do great work, but we aren't perfect—no company is. On the rare occasion that mistakes occur, we own up to them and fix them for our customers.
Our painting crew takes every project very seriously and treats each home as their own. Top-notch work and gorgeous results are simply part of our daily routine. We're proud to offer our customers high-quality painting for a fair price. Our painters receive fair compensation and respect on the job. Suppliers get honest dealings.
Chase Improvement
Improving by just 1% on every job makes a huge impact on our skills by the end of the year. Every day, we're thinking of ways we can improve a painting project and provide clients with a nicer overall experience. We're never satisfied with the status quo. We constantly have an eye on the next innovation, the next level of performance. We're always looking for continuous improvements in all areas of our business.
Even if things go perfectly well, we're always looking at what can be improved upon so that we can provide a better service. Our team has adopted the mindset of continuous improvement, allowing us to show our clients our best version of ourselves every time! We're determined to create raving fans out of our customers while developing a proud and reliable team of painters who take pride in their work and want every customer to be completely satisfied. We take the time to do the job right. We put in the effort to do the proper prep work and use high-quality paint and the right equipment for the job. Our team is highly trained and skilled. We know we do great work and are more than happy to guarantee it.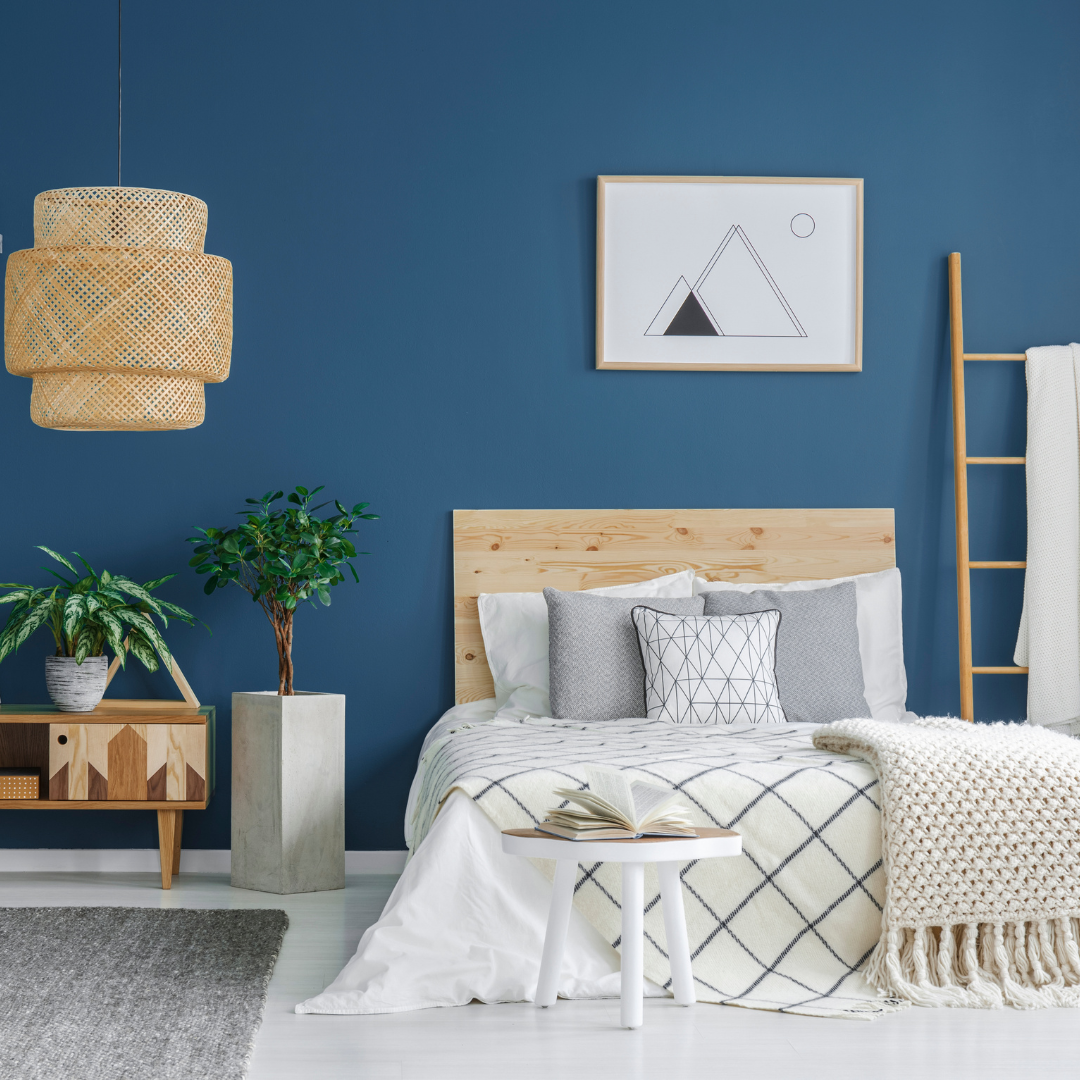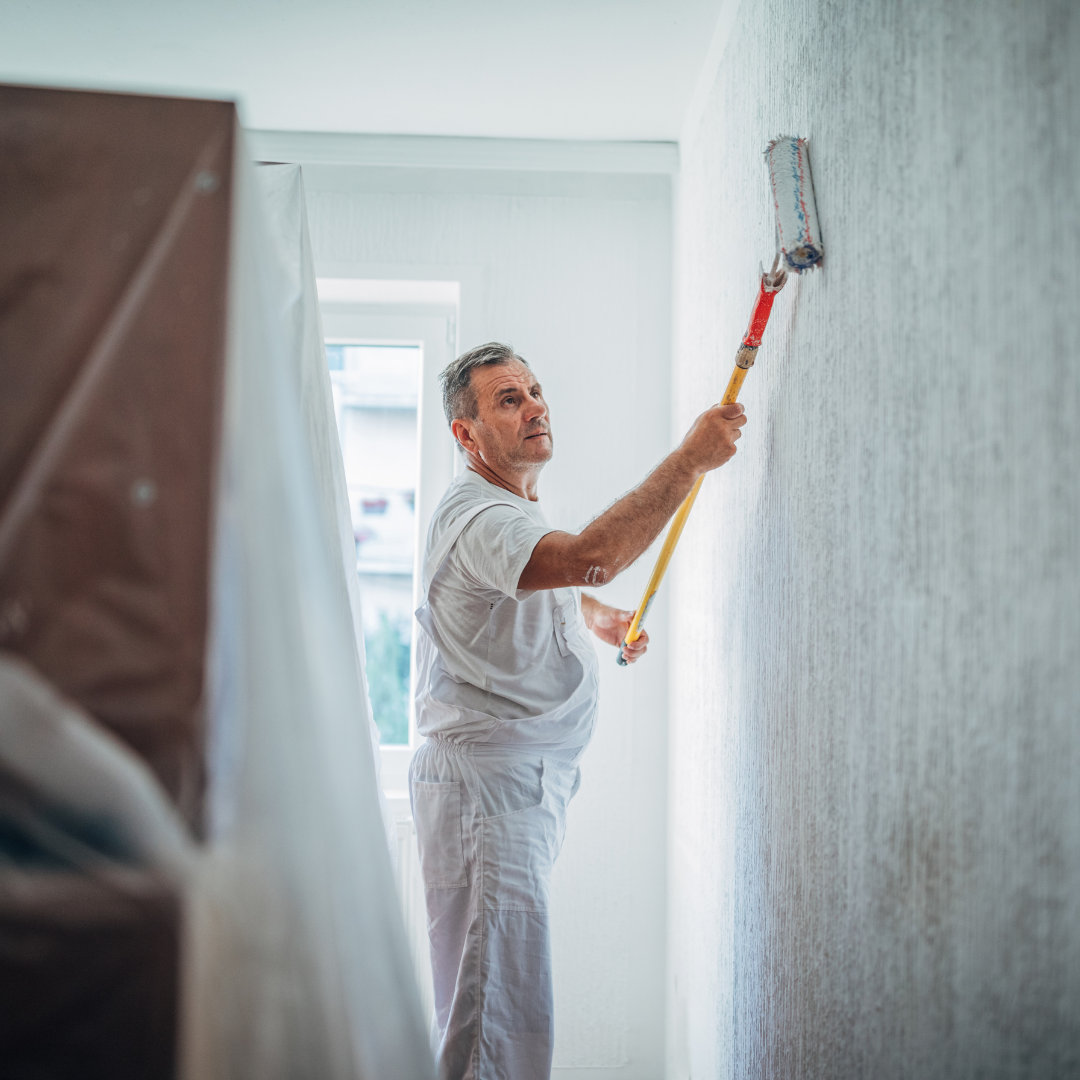 Work Efficiently
Working hard and working smart keeps us in business and earns us the respect of our clients. It is the key to achieving goals & results, and is the best way to get our projects and tasks done. Our team works efficiently and with great precision. We're always considerate of the homeowner's belongings and try to clean the home as clean as possible while we work.
We believe communication is key, which is why we provide you with daily updates while we're working on your deck, and we are readily available for any questions you may have. We will also be sure to ask you questions as needed to make sure you are getting the exact outcome you are expecting. As a professional house painting company, we believe it's our responsibility to have liability insurance, which covers accidental damage done to a customer's property. Licensed contractors in California are not required to carry liability insurance, but we carry it anyway.